Clinical Trial Corner is a biweekly series from Dr. Vladimir Misik, founder of LongTaal and CSOFT's VP of Global Clinical Strategy.
In our previous CT Corner posts we assessed patient diversity on a global scale and flagged countries and regions that appear to be underrepresented in global iCTs relative to their consumption of marketed pharmaceuticals. (1) (2) We also identified countries and regions, darlings of the industry, where their iCT market share far exceeds their share in global consumption of pharmaceuticals. (3)
While patients are primary stakeholders benefiting from access to innovative experimental therapies, there are multiple societal benefits, which will be the focus of today's post. As always, I will try not just to list these benefits but also to quantify them in relation to the country's iCT market share. Regarding the iCT market share methodology, let me refer the reader to our recent online accessible publication. (4)
Benefits of conducting clinical trials
Clinical trials respond to human, social and financial goals as they relate to the development of new drugs, devices and vaccines. They are the bridge between science and medical practice and reveal crucial information about the tested products. Over a longer term, they will result in the ability to cure or cope with disease, improve quality of life, and prevent decline or disability. In the immediate term, they are important to our understanding of disease, generate knowledge that is used in many different ways in both industry and patient care, and offer both patients and clinicians rare opportunities to use novel advanced treatment options (5). Often patients are further incentivized to participate in clinical trials to gain access to highly qualified clinicians and facilities that may otherwise not be available to them.
Clinical trials attract the world's leading clinicians and create employment opportunities for tens of thousands of highly qualified personnel. And, importantly, they generate another important societal aspect: revenues for the economies of countries in which trials are being conducted. Thus, across multiple dimensions, the conduct of clinical trials in a country is intimately tied to the well-being of society. (5)
Let's now examine in greater detail benefits to some of the key iCTs stakeholders:
Patients
Patients and their families are perhaps the greatest beneficiaries of participation in clinical trials. Regardless of the standard of healthcare in the country, clinical trials offer access to cutting-edge medical technology and innovative therapies to a select group of participants. Furthermore, as these studies are closely monitored to ensure safety, patients have greater access to highly qualified physicians providing confidence in the care they receive. In addition to personal care, many subjects are also motivated to participate in clinical trials as a means to contribute to the development of science and medicinal breakthroughs for future generations.
Clinicians
Participation in clinical trials allow clinicians to gain knowledge and first-hand experience with innovative drugs and potential side effects – resulting in invaluable confidence and competence when prescribing these medicines to future patients. Studies have confirmed a positive correlation between physicians participating in clinical trials and their subsequent prescription of the new, first-in-class drugs. (6) Furthermore, participation in trials brings personal benefit to doctors as they have increased exposure to sought after cutting-edge research and technology, as well as fostering positive international collaboration among clinical investigators. In a survey among investigators, over 50% listed advancement in scientific knowledge and the opportunity for scientific publication as important personal incentives for participation in clinical trials. (7)
Healthcare institutions
Participation in clinical trials not only enhances the quality of medical staff participating in them, but is also known to attract leading clinicians, resulting in better clinical outcomes for the organization. It can also reinforce the development of centers of excellence – through a cyclical combination of trials, outcomes, critical mass, patient choice, leading clinicians, grants, prestigious reputations, access to technology and equipment as part of the research, academic mission and the bench-to-bedside paradigm. (5)
Economy
Carrying out clinical trials involves large numbers of personnel-creating jobs and tremendous skills development, as mentioned above. Furthermore, there is a marked increase in cash inflow for the public health system through fees and taxes paid by clinical trial sponsors, trial regulatory fees, and ethical committee fees. (8) In Canada, an estimated USD 300 million in potential clinical trial revenues were attracted through new clinical trial contracts in 2007-2008. (5) According to a report on iCTs in Poland, there was an estimated USD 40+ million savings for the Polish National Health Fund in 2009 and USD 80 million in 2014 for oncology studies alone, as patients received treatments co-financed by iCTs sponsors. (8) (9)  And, as shown by our recently published report, the cumulative economic value of iCTs in Poland during 2014-2020 period was almost USD 8 billion. One should also keep in mind the number of additional services providers involved, including laboratories, courier services, and translation services, among others, that benefit from the conduct of clinical trials.
Government
The government holds significant influence, whether directly or indirectly, over the level of participation of the country in clinical trials, and hence the degree to which the benefits mentioned above are realized. The stringency of legislation (e.g., requirement of inclusion of patients in clinical development of compound submission for marketing authorization), timelines for approvals, clinical trial study material importation complexities, etc., are all factors that play into whether the country will be considered for participation in a clinical trial. However, the government also stands to benefit from clinical trials. Regulatory agencies and ethics committees must be staffed and well trained in order to ensure confidence in the population to participate in clinical trials, thus creating attractive government jobs financed by sponsors of iCTs and providing greater diversification. Furthermore, through the development of these oversight agencies, the government has first-hand knowledge of the efficacy and safety of innovative medicines even before they arrive on the market, having a direct impact on the safety and health of the country's population and potentially reducing an increased burden on the domestic healthcare system.
Based on these considerations, Figure 1 summarizes the quantifiable socioeconomic value of 1% iCTs market share to countries, providing important context to the discussion below on global market share trends.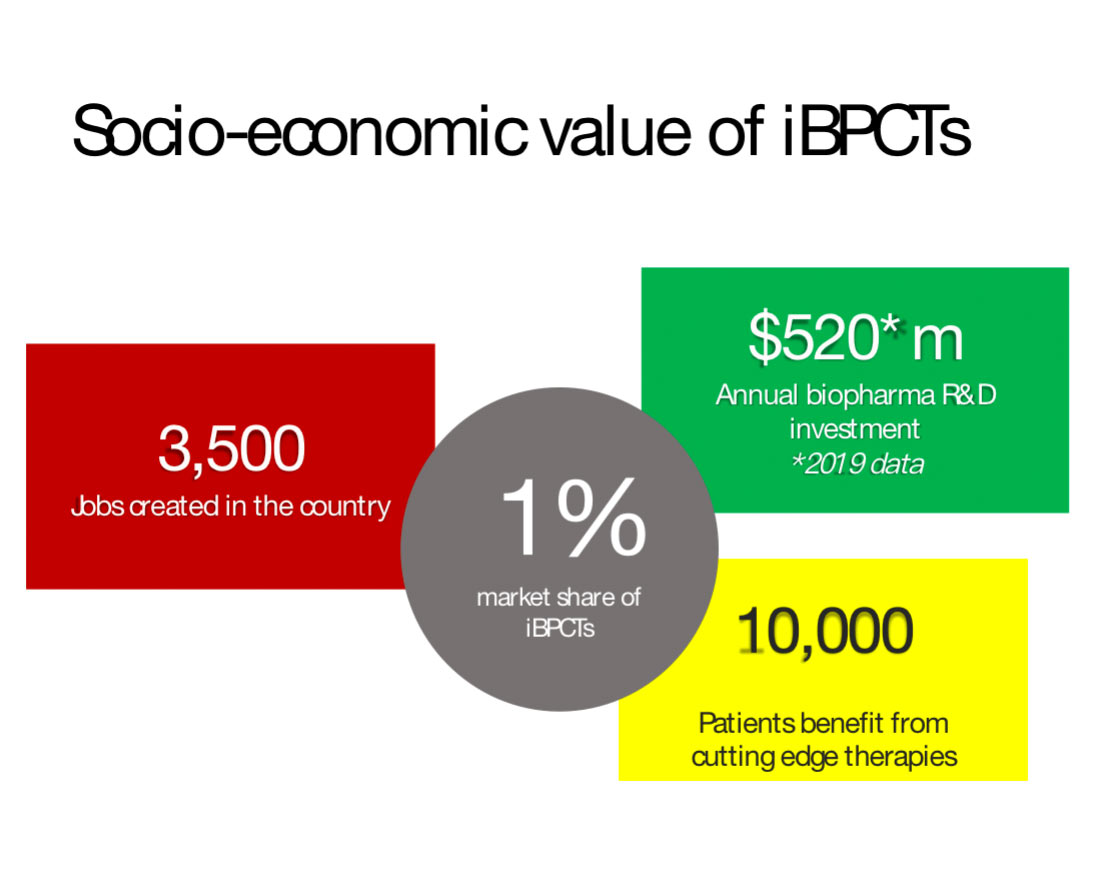 Figure 1. Socioeconomic value of 1% global market share of iCTs. For methodology and data sources see Reference 4.
Global iCT market share trends
Given the very significant quantifiable socioeconomic value of iCTs (refer to Figure 1), let's now examine the list of countries (from each region, a few selected countries are shown) (Figure 2).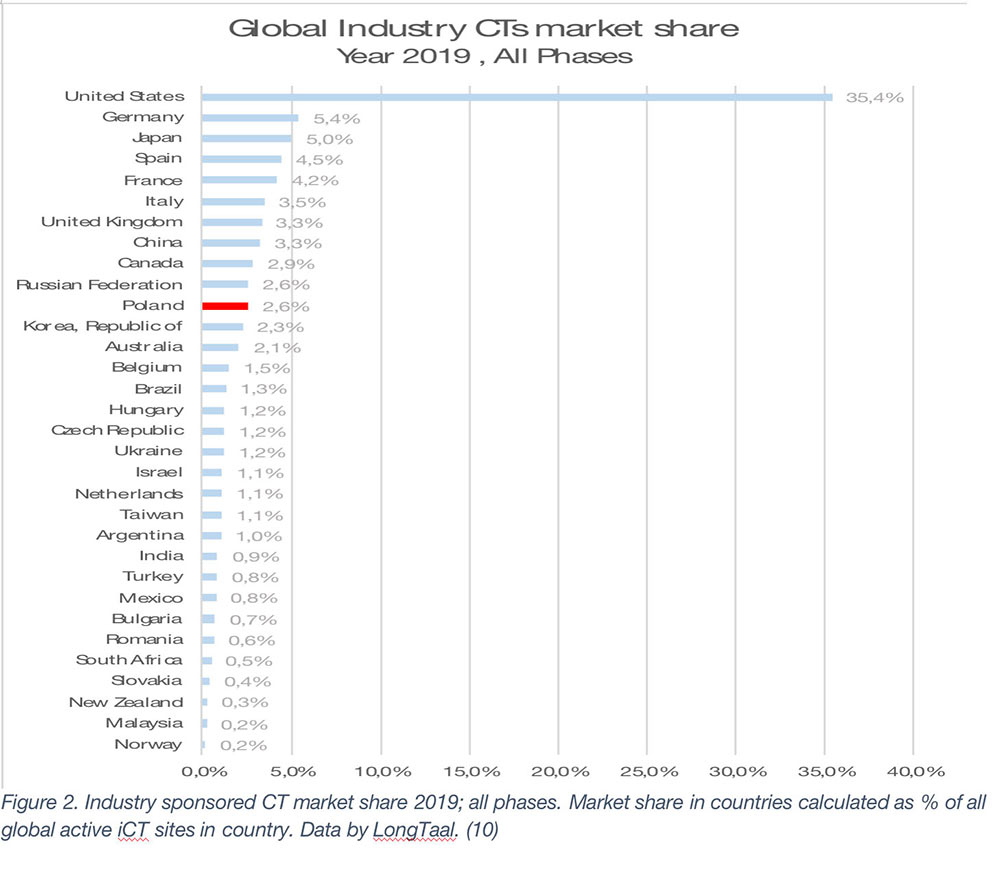 The global market leaders are the US, followed by Germany, Japan, Spain, and France (2019 data). It is, however, important to emphasize that the county's market share is not a given and is often subject to significant changes over time. Any significant market share changes will have profound societal impact on the countries in which they are being conducted. Let's therefore explore some of winners and losers among the larger iCT markets globally (Figure 2 – Mkt share change in absolute % and Figure 3 – Relative market share change).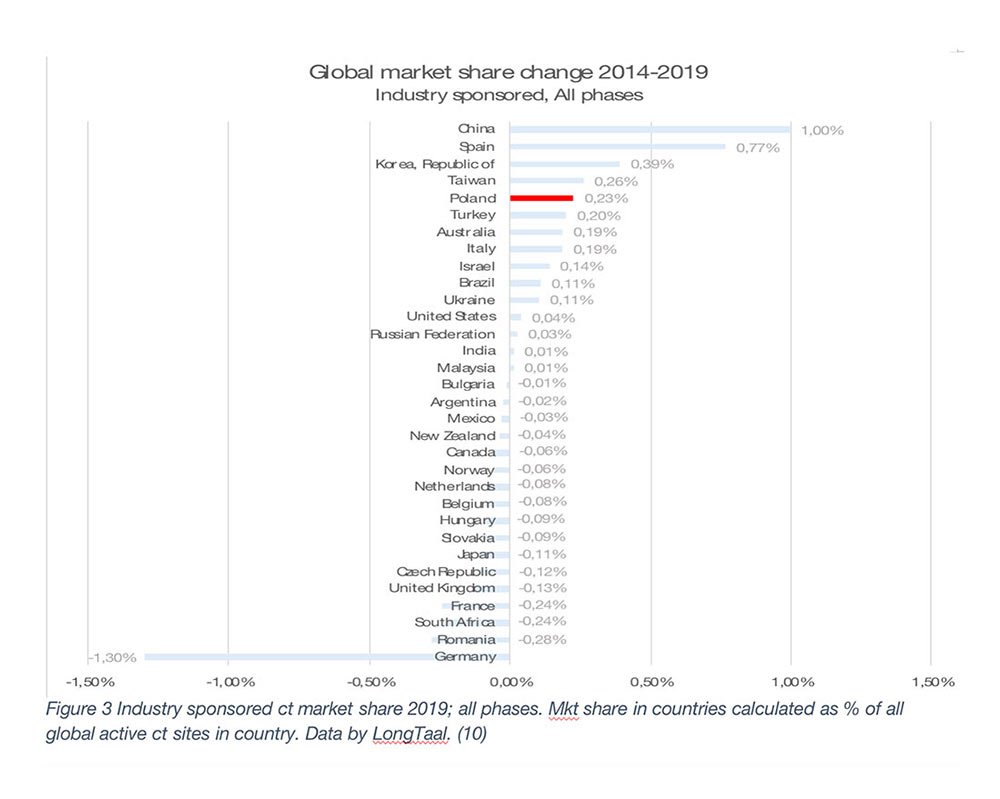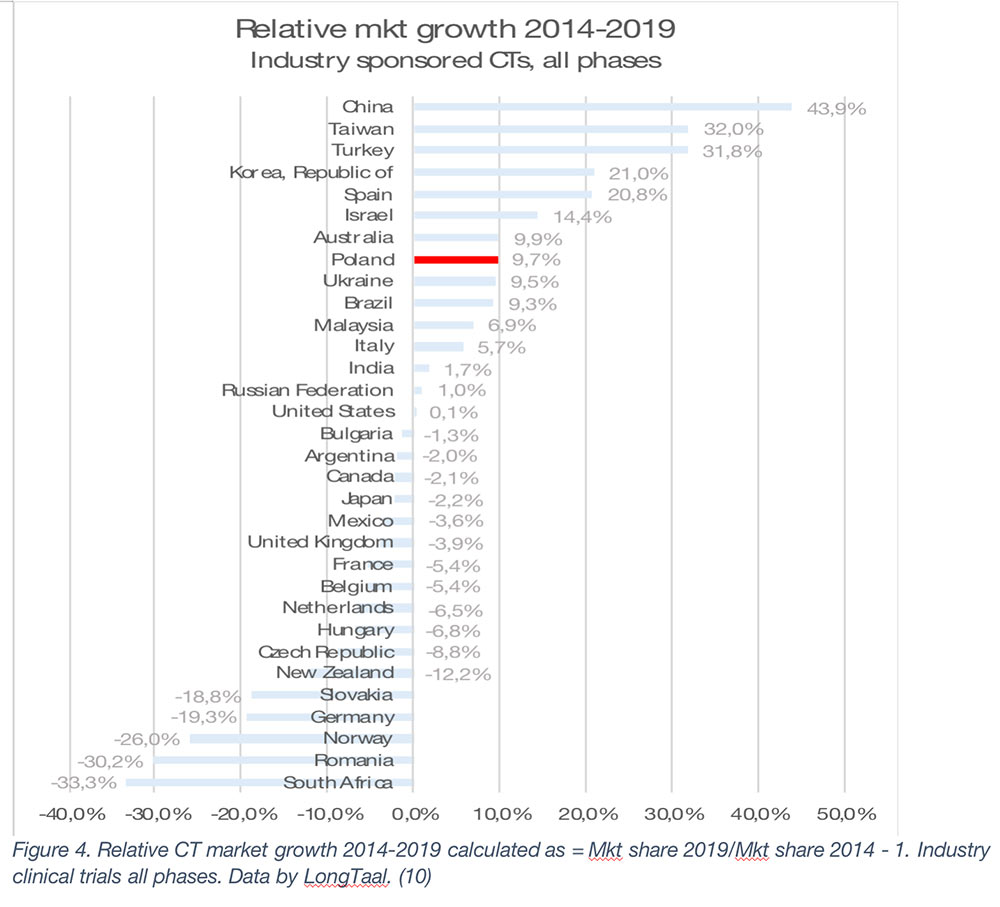 As seen from Figures 2 and 3, during the 2014-2019 period, China has been the undisputed global market share growth market both in absolute and in relative terms, with other top growth markets during that period being Spain, South Korea, Taiwan, Poland, Turkey, Australia and Italy (in absolute terms).
Please note that the data presented here capture the pre-pandemic and pre-Russian war period of 2014-2019. During Q2 2023, we plan to present a re-assessment of the most recent iCT market share changes covering the period of 2019 – 2022, which will capture the impact of the global COVID-19 pandemic as well as that of the initial impact on the invasion of Russia of Ukraine. To ensure that you do not miss that latest iCT data release, we suggest following the CT Corner series.
Summary
In this article we examined the not-so-often researched topic of the socioeconomic value of iCTs to countries involved in these trials. From the data presented, iCTs need to be treated as a national treasure and nurtured to ensure continuing societal benefits. It is clear that even the largest global markets are not guaranteed a continuing high supply of iCTs, with a great example being Germany, which during the 2014-2019 period lost almost a fifth of its iCT market, resulting in a cumulative USD 1.5bn (expressed in 2019 currency) loss of economic value during this period and almost 5,000 jobs lost from the economy. The fate of Germany has not afflicted other top-10 iCT markets, with the US, Spain, Poland, and Italy being able to expand market share of their markets, and China moving rapidly up the global iCT market share rankings with the fastest market share growth among large iCT markets both in relative and absolute terms. We predict that when 2019 – 2022 iCT market share data are consolidated, China will have overtaken two global powerhouses of iCTs, the UK and France, to secure global position #6.
About Dr. Misik
Dr. Misik has 30+ years' experience of working in biomedical R&D at the George Washington University, School of Medicine and at the National Cancer Institute in Bethesda, Maryland. In addition to holding several executive roles in multinational CROs, Dr. Misik founded LongTaal, a company that maintains up-to-date dashboards and visualizations of the global CT scene by introducing a range of tools, including a CT patient accessibility index and country CT reputation index.  
References
Misik V. Patient Diversity In Clinical Trials: Why It Matters, Who Should Be Concerned, and What Can Be Done. CSOFT Health Sciences, Clinical Trial Corner Blog, Sep 22, 2022.
Misik V. Patient Diversity in Clinical Trials Part 2: Assessing the Proportionality of Countries' Participation In Pharmaceutical Development Relative to Their Consumption Clinical Trial Corner blog, CSOFT Health Sciences, October 14, 2022.
Misik V. Assessment of Countries' Reputation Among Sponsors of Industry Clinical Trials. Clinical Trial Corner blog, CSOFT Health Sciences, 3 November 2022.
Misik V, Jarosz B, Beckowski L, Czarnecka M, Dabrowski T, Drake D, Milowska K, Ziecik P, Magielski P, Szczepannik W: REPORT: Industry Clinical Trials in Poland. Possibilities to increase number and scope of trials in Poland. Publishers: INFARMA and POLCRO. December 2021; pp 1-115.
Canada's Research-Based Pharmaceutical Companies, et al, "Canadian Clinical Trial Summit: Starting the Conversation" Ottawa, October 2011.
Corrigan M, Glass H. Physician Participation in Clinical Studies and Subsequent Prescribing of New Drugs, Pharmacy & Therapeutics 30(1): pp60-66, 2005.
Karlberg, J. Globalization of industry-Sponsored Clinical Trials and Challenges and Opportunities for Asia Clinical Trials Centre, The University of Hong Kong, 2011. Presentation slides.
PriceWaterhouseCoopers, Clinical Trials in Poland – Key Challenges, p. 46, November 2010.
PwC Polska Sp.z o.o., Clinical Trials in Poland. December 2015.
LongTaal CT Informatics, data refreshed on October 16, 2022. https://longtaal.com/features/lt-analytics/.