eLearning & Training Translations
Adapting life science eLearning and training solutions for a global audience
Contact us now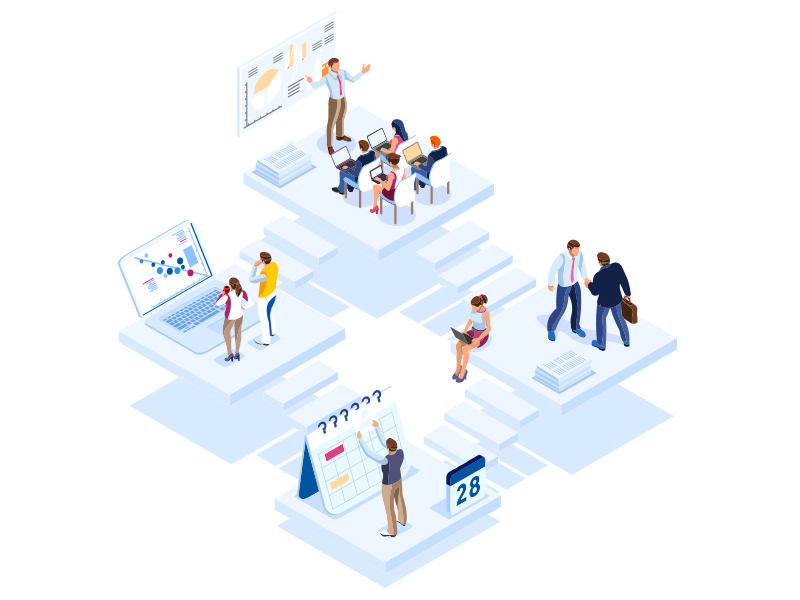 Life science companies expanding into global markets require training and eLearning translations for not only potential and current clients, but also employees. As the world is becoming increasingly global, the importance of ensuring user manuals, training videos, software training tools, infographics, and other training materials related to research, products, policies, and regulations are accurately translated and localized to the local market's culture is critical for business success. Ensuring all employees are on track and up-to-date with relevant information through utilizing employee training materials and courses is also necessary to meet regulatory compliance requirements and maintain safety standards across borders. Healthcare organizations employ eLearning not only for training medical staff such as doctors and nurses, but also staff that works within every level of the organization.
There is a wide degree of materials to utilize for e-Learning. Our training translation services cover enterprise-wide learning requirements and support a variety of content creation technologies and tools. Our language and engineering experts specialize in all of the following services:
Pre- and post-processing and engineering of e-Learning source and translated files
Storyboard text extraction and translation
Voiceover recording, post-production, and synchronization in 100+ languages
Localized course compilation and publishing
Linguistic, cosmetic, and functional testing
Video dubbing and editing
Filming and video production
Subtitling and closed captioning
ANALYSIS
To ensure the best possible localization, the target audience must be analyzed to ensure that the design of the course is appropriate across all locations. At times, this can mean that cultural adaptation is necessary to target modules; examples of this include adapting currency, measurements, or references that may be misunderstood. Things to avoid include slang and idiomatic expressions that are often not understood cross-culturally.
DESIGN AND DEVELOPMENT
The design and development of the training program or material is crucial for global life science companies. Activities using acronyms and word games to express concepts are not recommended as they will change during the localization process. In addition, it's important to keep terminology and segmentation consistent among all courses and collateral material such as manuals and quizzes, taking into account of course text expansion or contraction depending on the translation project. More consistency means more cost savings gained during localization.
VOICEOVER AND SCRIPT
Creating a script when producing audio segments is important to ensuring consistency and synchronization. Language service providers (LSPs) may charge for transcription as an additional task. If budget is a priority, keep it short and relevant or, alternatively, instruct the LSP to use subtitles in the localized versions rather than a full voiceover can save costs.
INTERNAL REVIEWS
Holding internal reviews are an integral part of the design stage to ensure cultural appropriateness. In cases where there's multiple reviewers, it's important for everyone to have an assigned role to be on the same page in terms of authority and workflow. Creating necessary style guides and glossaries ensures consistency during localization as well as aligns linguistic expectations.
LOCALIZATION TESTING
Testing plans are an extremely important step when translating e-Learning materials. Providing instructions that include the quiz answers to the LSP to test the ability in navigating the e-Learning course ensures the material is optimized for localization. Not requiring content re-development for each audience will save you time and money, while producing the best e-Learning content possible.

Data Security
We have well-documented and fully traceable information security policies, checklists, and quality records. CSOFT understands the importance of security to our clients and we take nothing for granted when confidentiality is a concern. All our data and security processes comply with our certified ISO standards 13485:2016 and ISO 9001:2015. We are also compliant with ISO 17100 and leverage best practices from ISO 27001.
Learn more about our data security.
Quality Assurance
Accurate and high-quality translations for e-learning and training content is extremely important; inaccurate translation along the way can not only result in wasted time, money, and effort, but also negatively affect patients' lives. That is why CSOFT is dedicated to ensuring the highest-quality medical translation solutions for the life science industry. To do so, we use in-country linguists with a minimum of 7 years of experience, combined with our extensive network of subject matter experts. In addition, we have perfected our localization best practices through linguistic validation, back translation, terminology management, and in-country review (ICR) . We have the tools and team to help you meet the submission demands of regulatory bodies such as the FDA, EMA, and NMPA.
Learn more about our quality assurance process.