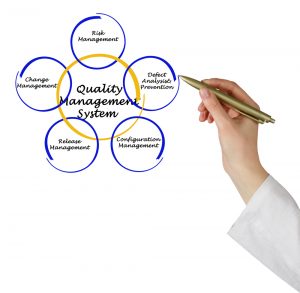 Let's talk about quality! When it comes to translation there are two types of quality, the end product that is being delivered and the process it goes through to get there. Today we are going to look at the latter. Quality management systems, used by industries worldwide, provide a method of clearly establishing quality objectives and processes. Previously, we looked ISO standards, more specifically ISO 13485. ISO 13485 is comprised of the quality assurance of ISO 9001 with specific regulatory requirements of life sciences.
ISO standards serve to create a system of accountability and a way to evaluate company objectives while demonstrating a businesses ability to perform. This Quality Management System (QMS) documents organization's goals, policies, and internal processes. This enables businesses to establish a clear commitment to quality and client satisfaction. So, lets' take a look at what you should be considering.
Planning for Quality – Where to start?
Designate a quality leader and provide them with a team to help carry out duties and monitor the quality process. Having an accountable leader with the necessary authority and resources allows you to have a central voice to oversee company wide objectives. Provide a clear set of roles and responsibilities of team members to ensure the best quality monitoring possible.
Look at all levels of operation within your company. It is important that the objectives of the company align with those of the quality management system. Quality assurance activities should be a part of each step of the translation process. Not only should they reflect internal processes but address customer expectations as well.
Create the policies and tools necessary to ensure quality. Guidelines during each phase of the translation life cycle should be established to define procedures and internal processes.
Finally, set a clear structure to evaluate effectiveness of your plan. In addition, plan a way to report and collect data to look at what's working and where improvements are needed.
Get Everyone on Board!
Training, it cannot be emphasized enough. Employees should be trained for every step in the localization process. Policies, procedures, and quality expectations should be regularly reviewed. This is where your quality team comes into play, as they will be helping to monitor quality objectives and compliance throughout the various levels. Looking at quality metrics for each phase of service and product deployment is vital as each has its own unique challenges. It is important to have a system that everyone is engaged in and committed to. Engage all levels by creating goals and objectives
Continuous Quality Improvement
Regular monitoring of quality processes cannot be stressed enough. Review your processes and procedures to evaluate how effective they are and what improvements can be made. Create reports to share that highlight achievements and identify problems areas that require improvement. In conclusion, continually evaluate adapt quality objectives and procedures and provide regular training to all staff to ensure that everyone is familiar with up to date policies and expectations.
At CSOFT, we are both ISO 9001:2015 and 13485:2016 certified. We have actionable metrics embedded into every phase of the localization process specifically tailored to the unique needs of life sciences. Carefully aligning our quality expectations with those of this highly regulated industry allows us to be confident that we can not only meet but exceed expectations.