One of the biggest areas of concern in the pharmaceutical industry, particularly in the United States, is the high costs of new treatments or drug therapies for patients. The recent initiatives from regulatory agencies like the Food and Drug Administration (FDA) to lower prescription drug prices through incentives for global drug developers, and reformation of current policies, brings focus to pharmaceutical companies in the US market rapidly increasing prescription medication costs, often without explanation. To make matters even more complex, the high cost of the prescription predominantly affects patients of diverse backgrounds as well as the aging population in the US, due to socioeconomic factors like lack of accessibility to new treatments, lower household income, lack of quality healthcare to help share the brunt of costs, as well as the amount of medications needed to help with various afflictions. As we move towards a more inclusive and patient focused healthcare model, the importance of lowering prescription drug prices for US patients is critical in not only helping enhance but also potentially save the lives of patients.
The cost of prescription drugs has escalated over the past few years exponentially. According to a report from California's Office of Statewide Health Planning and Development (OSHPD), featured in the PharmacyTimes, from 2017 to 2019 prescription medication cost rose nearly 26%. With the drastic increase in pricing, and lack of government aid in the US, as well as affordable healthcare, patients needing these innovative drug therapies end up bearing the brunt of the costs. The US, with many in the population having health conditions like high cholesterol, diabetes, and high blood pressure, as well as older generations facing simultaneous chronic health issues like arthritis, Alzheimer's, heart disease, and more, it is not uncommon to take multiple prescription drugs. This increase in drug intake naturally also leads to a higher burden of cost for patients.
A poll taken in 2019 by Kaiser Family Foundation (KFF) with a pool of almost 1,500 US citizens, found that almost a fourth of those taking prescription medicine had difficulty affording their prescriptions, as depicted in the graph below. In addition, those who were unable to afford the medication typically came from lower income households, in fair/poor health, taking 4 or more prescription drugs, and over the age of 50.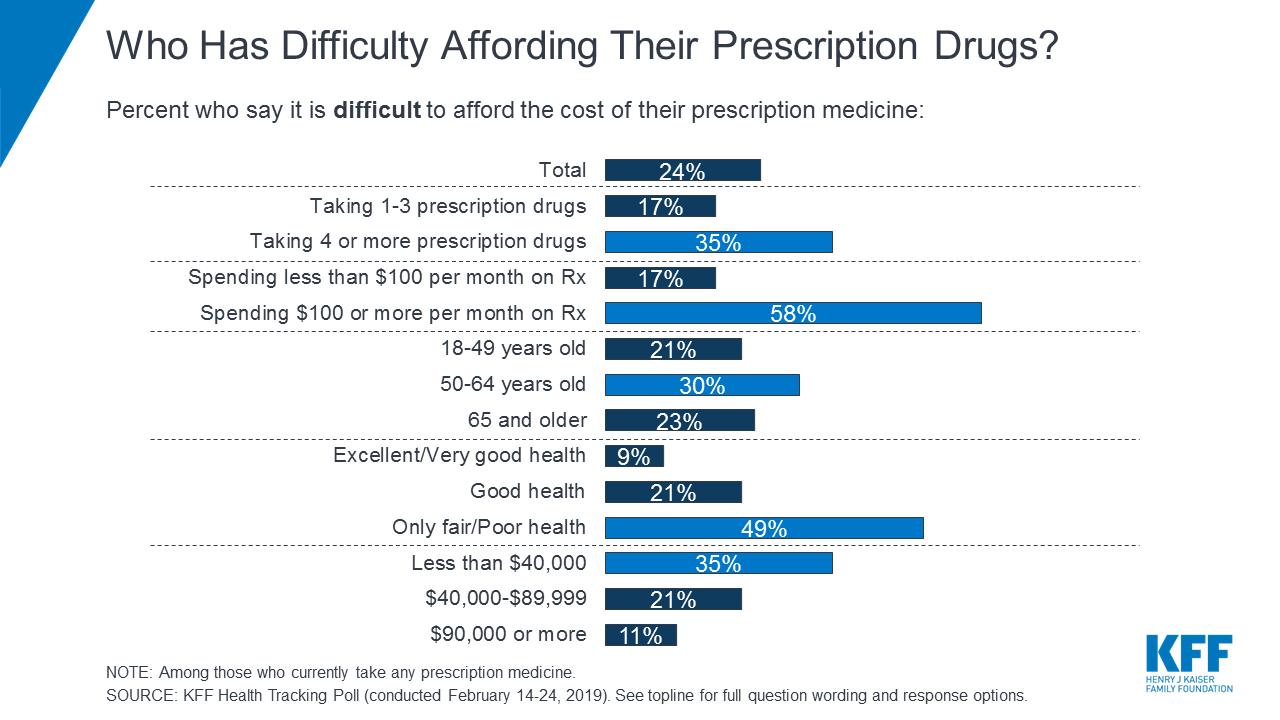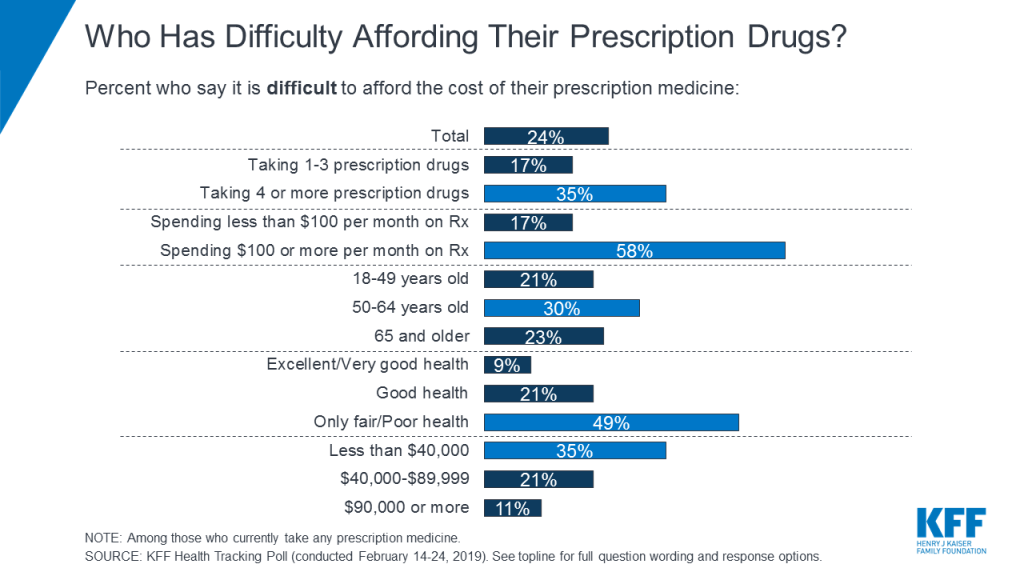 To make matters worse, the high prescription drug costs have caused alarmingly millions of Americans to avoid taking the medications they need, particularly citizens that fall below the poverty line. If unable to afford their medication, and with no alternative generic prescriptions available or issues due to the slow regulatory approval process of prescription drugs innovated outside the US, Americans are forced to seek alternative therapies or not take their needed medication. With pharmaceutical companies and drug developers receiving generous incentives for their innovative research and drug therapies from the government, the importance of addressing the lack of accessibility due to the soaring drug prices is an initiative the FDA and Department of Health and Human Services (HHS) have taken on recently.
To address the growing concerns of the population, the FDA in collaboration with the HHS have implemented in 2017 the FDA Drug Competition Action Plan (DCAP) to remove barriers barring generic drug development and market entry particularly for drug developers outside the US. By doing so, the FDA and the HHS are working to encourage market competition between drug developers in order to drive down the prescription prices through the ever-rising new biotechnology companies who have become committed to bringing patients high-quality treatments, with more equitable prices.
EQRx, a new Cambridge-based biotech start-up, is first of its kind and already making big waves in the drug development process for the US. Their goal is to create, "patent-protected medicines at prices that are affordable for people and sustainable for healthcare systems." Through combining technology and science, the company has already begun its mission, acquiring two drug therapies, one for an experimental breast cancer drug therapy that big pharma names like Eli Lilly, Novartis, and Pfizer are similarly working to develop, as well as a lung cancer drug therapy that AstraZeneca is developing as well. Its unique business model is already starting to redefine the drug development process, and will likely continue to do so, bettering healthcare for patients and society through affordable and accessible drug therapies.
As we move towards a more inclusive healthcare model, serving patients of diverse backgrounds through patient centric research and greater cross-border collaboration for the drug development and drug-to-market process will continue to remain crucial for patients to be able to afford and access needed prescription medications for diseases. In order for companies outside of the US to become competitive players in the market, it is important that they not only understand the FDA regulatory approval process, like submitting new drug application (NDA), but also have high-quality translation from the source language to English for the US. With increased collaboration of drug developers, and regulatory bodies continuing to work to advance and better patient care, both translation and regulatory approval knowledge are critical for global pharmaceutical/biopharmaceutical or small-to-medium sized drug innovation companies to succeed in the US market.