Medical Translation Resources
White Papers
Examining unique challenges and issues surrounding the life science industries
Back to Resources
TRACKING THE GLOBALIZATION OF CLINICAL TRIALS: EVOLVING TRENDS IN SITE SELECTION, TRIAL REPUTATION, AND LOCALIZATION

With an increased focus on developing cost-effective manufacturing processes, an emergence of innovative technologies, improvements in regulatory transparency, and a dramatic increase of resources allocated to innovation and research, the biopharmaceutical landscape has experienced a dramatic transformation.
MEDICAL DEVICE MARKET OVERVIEW AND
REGULATORY LANDSCAPE IN LATIN AMERICA
Latin America (LATAM) promises to be one of the most profitable markets for clients in the medical device industry. As part of CSOFT's series on the global life sciences market and regulatory landscape, this white paper will discuss the Latin American market's medical device industry and regulatory landscape.
MACHINE TRANSLATION FOR THE LIFE SCIENCE INDUSTRIES: THE MYTH AND THE TRUTH
The rapid development of artificial intelligence (AI) and machine
learning has provided the translation industry with new capabilities,
such as machine translation (MT).
THE EU MDR LABELLING JOURNEY:
BEST PRACTICES FOR NAVIGATING THE LATEST MEDICAL DEVICE LABELLING REQUIREMENTS 
The European Union's regulatory landscape underwent a significant shift when the Medical Devices Regulation (EU) 2017/745 (EU MDR) officially went into effect on May 26, 20171.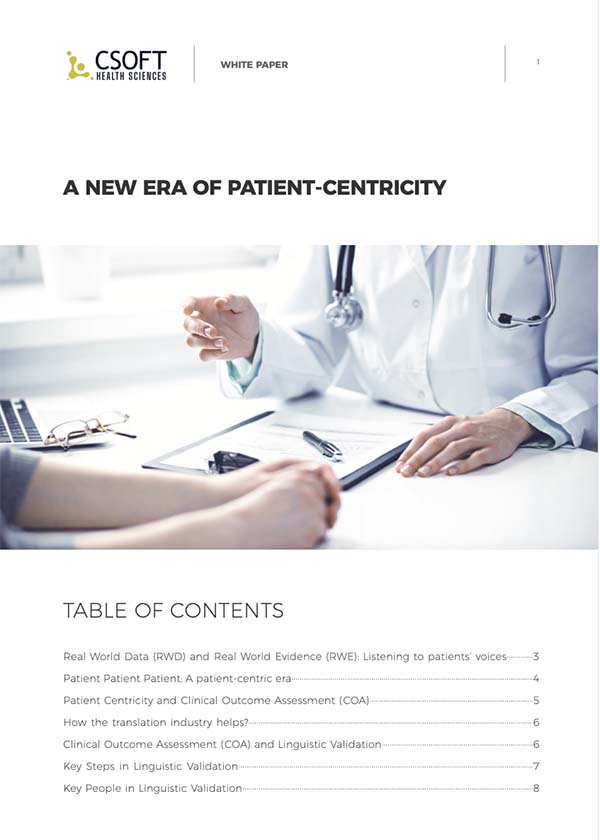 A New Era of Patient-Centricity
Patient-centricity has become one of the new catch phrases of the pharmaceutical industry. Indeed, although the industry appears to have patient-centricity in its DNA, the voices of the patients can easily get lost in all the hundreds of details in the drug development process.
MEDICAL DEVICE MARKET OVERVIEW AND REGULATORY LANDSCAPE IN ASIA
Asia is on course to become the next hot spot for global medical device companies, as the region witnesses economic growth, increased health care spending, and robust regulatory reforms. In this white paper, part of CSOFT's series on the global life science market and regulatory landscape, the Asian medical device market's landscape and regulatory overview will be discussed.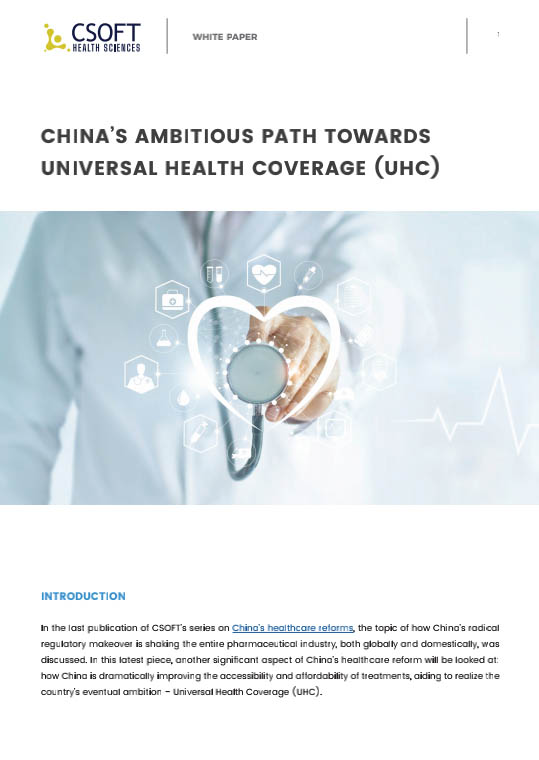 China's Ambitious Path Towards Universal Health Coverage (UHC)
In the last publication of CSOFT's series on China's healthcare reforms, the topic of how China's radical regulatory makeover is shaking the entire pharmaceutical industry, both globally and domestically, was discussed.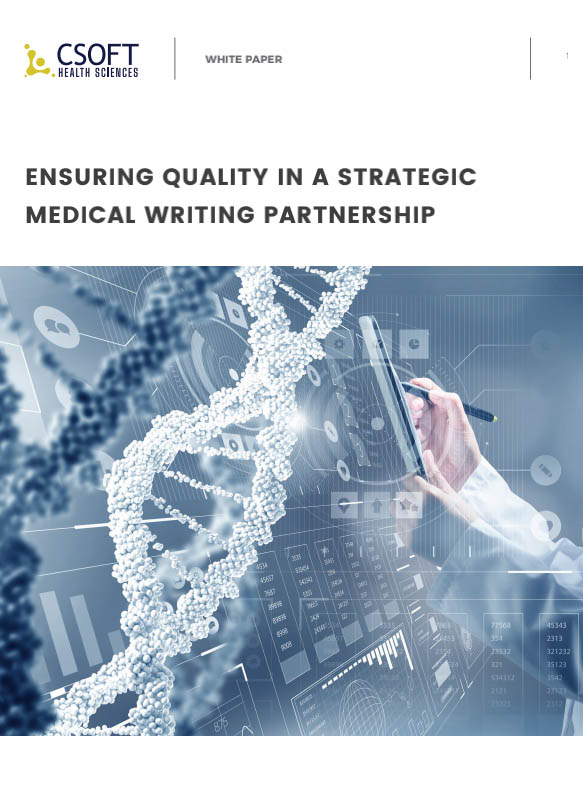 Ensuring Quality In A Strategic Medical Writing Partnership
We are talking about two things here – quality, and medical writing – so first let's examine both of these terms.Quality really means different things to different people – some consider it to be a degree of excellence, while others may see it as 'being fit for purpose'. While perfection would be desired, it is always important to balance effort against output. Hence, rather than targeting perfection, it is important to focus on what matters: those critical data points that will make all the difference.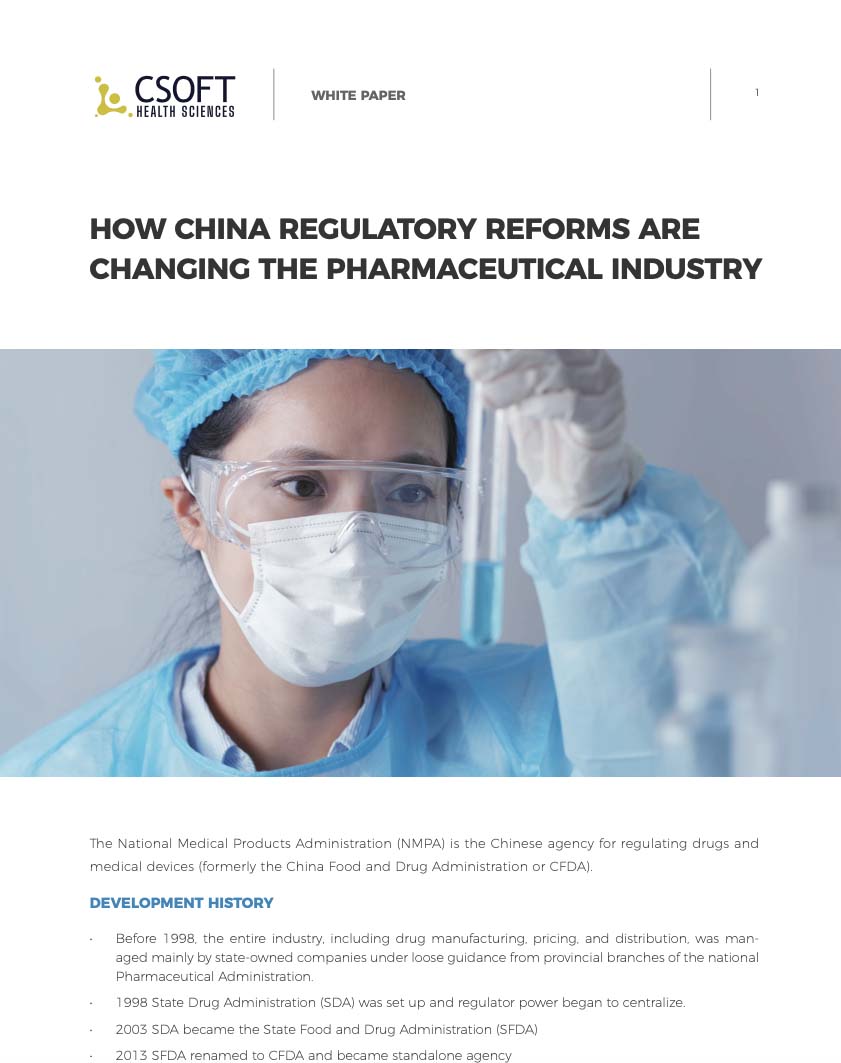 How The NMPA Is Changing The Chinese Pharmaceutical Industry
Since 2015, the NMPA (CFDA) has initiated a series of reform documents, with the purpose of pushing the Chinese pharmaceutical and medical device industry to a more mature and globalized environment.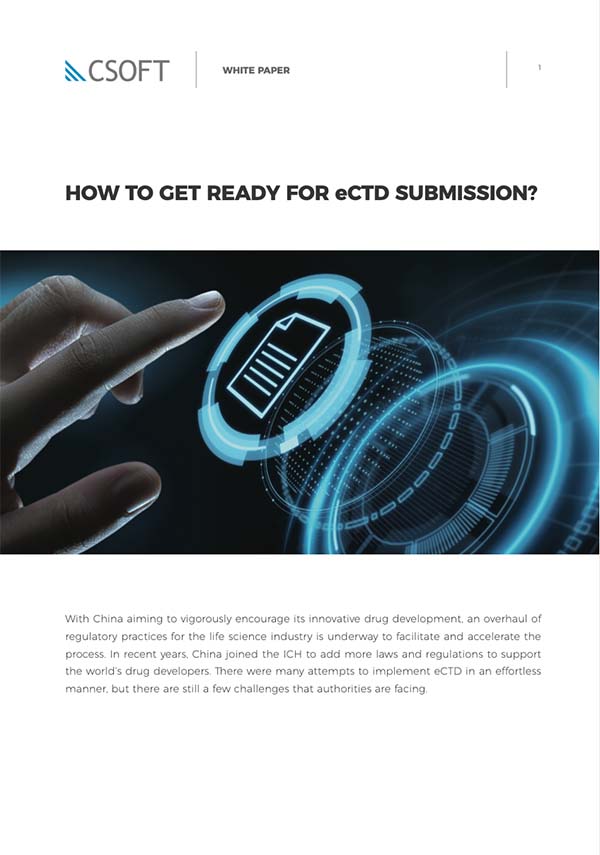 How To Get Ready For eCTD Submission?
China is currently recognized as the world second largest pharmaceutical market. However, the regulatory policies have been very challenging for many large foreign pharmaceutical enterprises, as well as innovative local companies.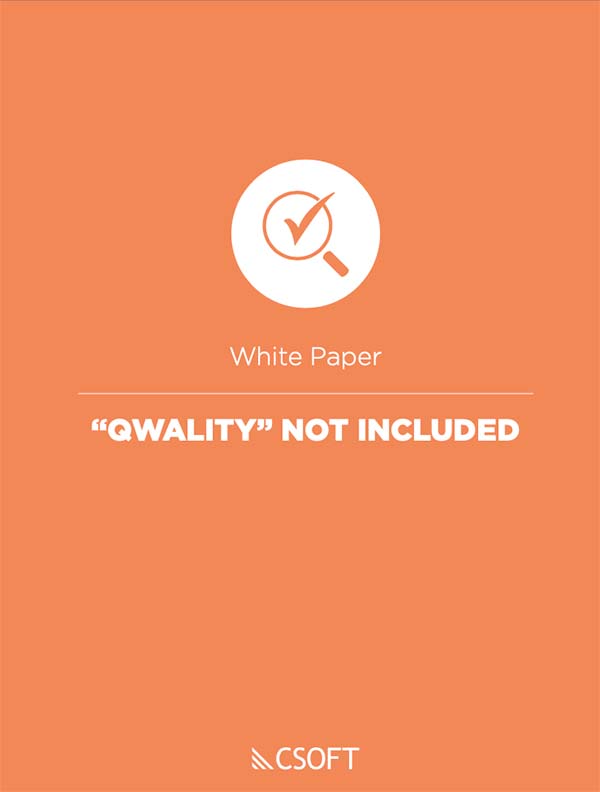 'Qwality' Not Included
The ability to rate translation quality in an effective and uniform manner has long been a requirement of the industry, but is also crucial to high-risk projects such as translation for patient safety medical device labelling.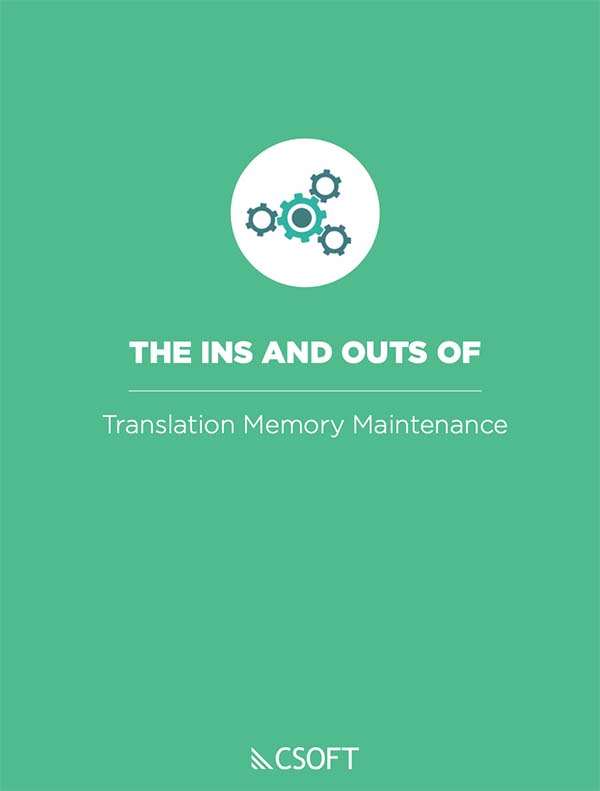 The Ins and Outs of Translation Memory Maintenance
Translation memory is a vital part of your business's assets. As your business experiences change and grow, your TM will expand as well. In an ideal situation, it should continuously learn your company's multilingual content and improve itself to provide you with efficiency, accuracy, and low costs that are necessary for successful globalization. Whereas in reality, it often collects and stores unwanted data.